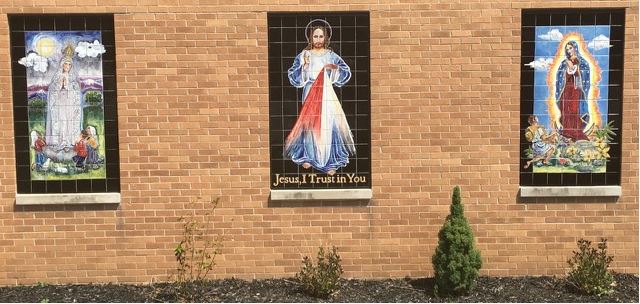 If there's one thing you'll learn from doing decades of tile work, it's that no two projects are quite the same. Even after all these years, this unique medium continues to delight, surprise and occasionally frustrate, due in large part to the careful considerations that must be made when selecting the materials for murals and decorative tile art.
The specific choice of materials is generally dictated by the environment in which a piece will be displayed.
Will the tile be displayed inside or outside? Will it be exposed to freeze/thaw cycles during the winter? To what extent will it be vulnerable to wind and rain? These are just a few of the questions that can inform my choice of tile and adhesive when designing a new piece for a client. But no matter how much care goes into the material selection for a given piece, things can still occasionally go awry.
Take this mural installation I recently completed for a Catholic building here in Kansas City, for example.
I'm not typically an installer, so this project posed some unusual challenges that I'm not accustomed to dealing with. I chose non-porous porcelain tile—an ideal option for most outdoor applications—and installed the murals on a series of removable panels (plywood with cement backer board to adhere the tile to) which inset into the building's window frames. I made the mistake of using a regular thin-set mortar, however, which did not have some acrylic bonding for porcelain tile. As a result, the tile pulled away from the mortar with the cold weather. Now, I plan on repairing the damaged murals with an acrylic bonding mortar. I am using TEC Full Flex thin set mortar and TEC Power Grout. The Power Great has some sealer in it also, and will not shrink or crack with hot and cold weather.
This experience has been an important reminder that there's always more to learn, and you can never underestimate the importance of proper material selection. If you're interested in all the work that goes into creating a tile art project, you can learn more about my creative process here!